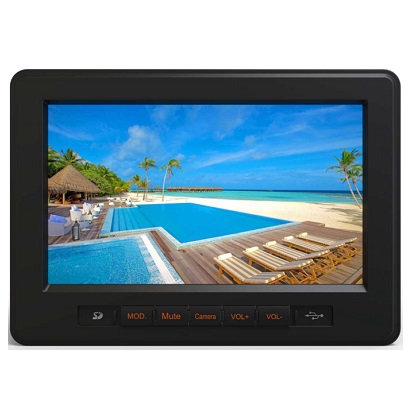 CMH-700 7 Inch Touch Screen Coach Dual-Zone Multimedia Head Unit
The CMH-700 Inch dual-zone multimedia head unit is a real all-in-one module for touring coaches.
The concept of "independent audio zones" makes it possible to play the same or different media in the driver and passenger zones.
You have just one unit, instead of three or four units previously. The CMH-700 meets all your entertainment requirements at reasonable cost without having to add an amplifier or media players. It also supports external audio and video input via a USB flash drive or micro-SD card,as well as on-board CCTV display.
The dual-zone features offers independent media resources for the driver and passenger cabin and incorporates two stereo amplifiers as well as two microphone inputs,without the need for any external amplifier. It allows the driver to enjoy his own audio or video programs in the driver's compartment,while passengers enjoy different media programs in the passenger cabin.
Simplified touch-screen controls allow the driver to control the on-board multimedia play with the greatest of ease.
The CMH-700 offers you an effective multimedia play and control module at reasonable cost.


Features
> Android 4.2




> 7 inch capacitive touch screen 1024 x 600




> Dual-Zone Control




> USB 2.0




> Micro-SD




>AM / FM radio




> Bluetooth 2.0 (support Bluetooth phone talk, but not Bluetooth music)




>GPS navigation




>2 Microphone Inputs




>2 high-resolution video outputs,720P




>5 audio outputs ( 1 for driver, and 4 for passenger cabin, output power: 18W x 5)




>Audio output and 4 video outputs




>6 camera inputs
Specifications
>

DC 24V (18-32V)




>Amplifier: 18 x 5W




>Storage Media: SD,USB,portable hard disk




>Resolution: 1024*600

(

mp4

、

rmvb

、

mkv

)




>

Dimension: 191mm*134.8mm*60mm











Please call us or complete the form below (note:all fields marked with
*
must be filled)