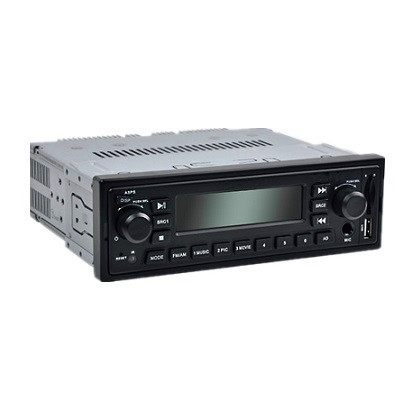 HD-518 dual zone bus multimedia player
The HD518 is at the heart of a high-end coach multimedia system.
The standard-DIN-size head unit is integrated with SSD, USB, SD & radio modules and dual-zone amplifiers, presenting advantages in saving the cost of having to buy two or three units previously, as well as the installation space in the dashboard.
With two built-in amplifiers separately for the driver's cabin and passenger's compartment, the head unit enables passengers to enjoy multimedia programs (SSD/USB/SD) in the passenger's compartment while the driver in the driver's cabin can choose to listen to radio or other audio sources at the same time, without interfering with each other.
It is an effective on-board entertainment & PA system at reasonable cost and provides a high quality multi-use player device and multiple media resources for your buses and coaches, thanks to USB and SD SSD storage.
Function Control:
Passenger's Compartment Audio Sources: RADIO--MICROPHONE--AUX--MP5/MP3--OFF
Driver's Cabin Audio Sources: RADIO-MICROPHONE-AUX-PASSENGER'S AUDIO SOURCES-OFF
The standard DIN size makes it easy to mount into bus dashboard.
Features
>FM Tuner (FM: 87.5-108 KHz)

>AM Tuner (AM: 522-1620 KHz)

>2 Microphone Inputs

>1 RCA Aux Video Input

>4 RCA video outputs, 1 audio stereo output

>Operating Temperature: -20-70℃

>DC 24V




>Two amplifiers:

4*25W (passenger's compartment)




4*7W (driver's cabin)


>Storage Media: SSD (recommended), Resolution: 1280*720 (RMVB), 1920*1080

(

VOB

、

AVI

、

MKV

)




>Video file format: RM

、

RMVB

、

VOB

、

AVI

、

MP4

、

MPG

、

MPEG

、

MKV

etc.

>Audio file format: MPEG3, WMA, WAV,APE etc.

>Dimension: 187mm*157mm*60mm
Please call us or complete the form below (note:all fields marked with
*
must be filled)